In Massachusetts, you need to have workers' compensation insurance for your employees. Follow Lunova's "MA Workers Compensation Guidelines For Small Businesses" below to learn more about workers compensation insurance in the Commonwealth of Massachusetts.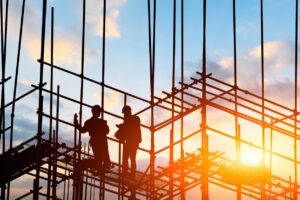 Do small businesses need workers compensation insurance?
Does your small businesses need workers comp insurance? Find out more about finding affordable workers compensation coverage for your business with the help of workers compensation specialist at Lunova Insurance by calling 1-508-258-7195.
This type of insurance protects employers from the financial burden of workplace injuries. It was designed to provide medical costs and replacement income for injured workers. It was first instituted about a century ago. The laws that govern this type of insurance are dictated by state law. Many states limit the types of medical care that a worker can receive as a result of a work-related accident.
Depending on the type of business, state, and number of employees, some small businesses are exempt from the requirement. Nonetheless, a business that employs more than one worker must purchase this type of insurance. Although some states do allow small businesses to self-insure, they are often prohibitively expensive and do not make sense for most businesses. As such, it's worth checking the guidelines for your specific state.
Small business workers' compensation insurance will help protect you against lawsuits and cover medical expenses of your employees. This insurance will replace the wages lost during an employee's injury or illness and will help the employee finance the necessary medical care.
In addition, the policy will limit the employee's ability to sue the company for damages. Workers compensation insurance is an essential tool for small business owners. Small businesses are much more likely to be sued for accidents than larger companies. Proper insurance coverage will help prevent financial ruin.
While most states require all businesses to carry this type of insurance, some are exempt from it. For example, an agricultural company with fewer than five employees is exempt.
Sole proprietors, partners, and LLC members are exempt from this coverage if they are self-employed. And if they hire subcontractors, they must have workers' compensation coverage, or risk facing a civil suit.
It's also important to note that employers without workers' comp insurance are liable for injuries and illnesses caused by subcontractors.
Lunova MA Workers Compensation Guidelines For Small Businesses Part 1: "Workers' Compensation Insurance Requirements"
Learn about company and business requirements regarding workers compensation with local Lunova MA Insurance agents.
Get a detailed quote for your company's workers compensation or to learn more about new and existing business workers compensation insurance policy options, call 1-508-258-7195 to speak with an agent.
Workers' Compensation Insurance Requirements
Learn if your workers' compensation policy is required for your employees. Find out who is exempt and what penalties you could face if your company does not have coverage.
Who should have insurance?
Massachusetts law requires all employers to have workers' compensation insurance. This applies to employees as well.
This requirement is applicable regardless of how many hours you work or how many employees you have.
Domestic employees must work at most 16 hours per week to be eligible for workers' compensation.
Massachusetts employers from out-of-state
Employers outside Massachusetts must offer workers' compensation coverage to all employees who work in the Commonwealth.
This requirement is satisfied by employers whose workers' compensation policies include Massachusetts as section 3A on the policy's information pages.
Employers who have Massachusetts listed in their workers' comp policies (with or without some state exclusions), must show proof that Massachusetts coverage is available by having their workers' comp insurer submit Form 154 – Verification Of Workers' Compensation Coverage for Massachusetts-based employers.
You don't need workers' compensation insurance
Employers without workers' compensation insurance will be issued a stop-work order (SWO), by the Department of Industrial Accidents' Office of Investigations.
The minimum fine is $100 per day which includes weekends and holidays. They start on the date that the SWO was issued.
Daily fines are assessed until insurance coverage begins and is paid.
You must immediately close your business if you don't appeal the SWO. Your business must remain closed until the DIA has provided proof of coverage and the fines have been paid.

Appealing your SWO can result in fines of up to $250 per person and the possibility that your business will remain open.
Employers who issue SWOs could face criminal charges. This includes up to one year in prison and/or a $1500 fine if convicted.
Employers that are not insured can also be barred from public contracts for three years.
Learn more about Workers' Compensation Insurance Requirements & Workers' Rights & Safety on the Mass.gov website.
Lunova MA Workers Compensation Guidelines For Small Businesses Part 2: "Who is except and doesn't need Workers Comp in MA"
Who doesn't need insurance?
Members of a limited-liability company (LLC), partners in a limited-liability partnership (LLP), and sole proprietors of unincorporated businesses are not required to have workers' compensation insurance.
Employees who are not members or partners of the LLC/LLP do not qualify for this exemption. 

They still need to be covered under a Massachusetts workers compensation insurance policy.

Members, partners and sole proprietors can contact an insurance broker if they wish to be covered.
Who can apply for an exemption?
An exemption from workers' comp coverage can be requested by corporate officers with a minimum 25% stake in the corporation

This exemption is not applicable to employees who do not work for the corporation.

 

They still need to be covered.
Lunova MA Workers Compensation Guidelines For Small Businesses Part 3: "How do I get workers comp insurance in MA"?
Finding small business workers' comp insurance in Massachusetts used to be incredibly difficult. At Lunova Insurance we offer businesses looking to package commercial insurance policies several choices for workers comp insurers.
Get a free Lunova Massachusetts workers' compensation insurance quote through a companies you can trust like Liberty Mutual & Arbella.
Get workers comp insurance in MA by calling 1-508-258-7195 to speak with an agent.
Massachusetts workers compensation guidelines
Learn more about benefits under Massachusetts workers' compensation laws and employer workers' compensation requirements for businesses with Lunova.
Massachusetts Workers' Comp Insurance Frequently Asked Questions
Do independent contractor need workers compensation in Massachusetts? Yes, according to the Mass.gov website "All employees in Massachusetts must be covered under a workers' compensation policy." If you're an independent contractor in Massachusetts and need a workers comp policy, speak with a workers compensation agent Lunova Insurance for a free quote 1-508-258-7195 or request a quote online.
"Is workers compensation insurance required in Massachusetts" & Do I need workers compensation insurance in Massachusetts"? Yes, according to the Mass.gov website "Who must have insurance. All employers operating in Massachusetts are required to carry workers' compensation insurance for their employees and themselves if they are an employee of their company. The requirement applies no matter the number of hours worked or the number of employees."
Does a sole proprietor need workers comp in MA? NO. According to Mass.gov, "As a sole proprietor you are not required to get workers' compensation insurance coverage. If you have employees, they must be covered. If you are a corporate officer that owns 25% or more of a company, you can file for an exemption so you will not be covered under a policy." Read more
How much is workers comp insurance in MA? MA workers compensation insurance rates vary by business type, class code, revenues, and annual payroll. The range for MA workers' comp insurance is "How much does workers' compensation insurance cost in Massachusetts? Estimated employer rates for workers' compensation in Massachusetts are $0.71 per $100 in covered payroll." according to Insureon.
How does workers compensation work in Massachusetts? Learn how coverage and policies for workers compensation works in Massachusetts with Lunova local agents.
Does Massachusetts have a workers compensation fee schedule? Yes. Accord to Massachusetts, "The 152 Workers' Compensation Act regulation is referred to as the "fee schedule" and contains 12 separate sections that list rates used to pay for health care services delivered by ambulatory provider types, such as physicians and physical therapists." Read more
Learn more about how your small business can find excellent commercial insurance packages and workers compensation rates with Lunova Insurance.
Workers' Comp Insurance Links & Resources
Massachusetts Agencies